QUICK STATS
8 years & up
1 player
30 minutes
Games, Puzzles
TOTY 2015
Logic
Problem Solving
Building
Spatial Orientation
Instructions PDF
Gravity Maze combines 3D building skills with logic and strategy to provide a unique "marble run" puzzle that pre-teens and adults will love. Gravity Maze is made by
ThinkFun
and is one of their most popular products; you'll see why it's a perennial best-selling logic puzzle in our full review, below.
Is Gravity Maze fun and educational?
A resounding yes. Gravity Maze provides hours of entertainment and teaches Rich Skills such as logic, problem-solving and building in a very friendly, incremental, manner. Young learners will especially develop spatial orientation skills as you get to the more advanced levels. Want to see more numerical ratings? Skip to the conclusion for our detailed scoring and final grade.
What's included & how to play
In the box you'll find:
a square game board roughly 7" on a side with a 4×4 grid made for stacking the unique Gravity Maze towers
9 of those towers, in various heights, made from tough, colored and clear plastic
a box of 60 challenge cards, slightly larger than poker cards, each with the challenge's solution on the back
3 polished metal marbles (1 for playing and 2 as spares)
a compact instruction booklet that can fit in the box with the challenge cards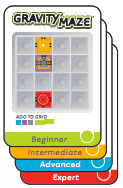 The challenge cards increase in difficulty through 4 levels: Beginner, Intermediate, Advanced and Expert. The goal, like a mouse seeking cheese, is to bring the marble from the initial position to the special red target tower. The red target is only one unit high and is always the lowest position. This means that you can infer a lot about the puzzle's solution by the gravity nature of the marble run, and you'll quickly internalize the seemingly complex rules outlined in the instruction booklet.
… you'll quickly internalize the seemingly complex rules…
The cards only give you the first 2-3 steps, thus leaving out all the intermediate towers that are required to connect the start and end points. Players use logic, trial-and-error and 3D building skills to puzzle out the path the marble must take to successfully land in the red target block. The 3D nature will prove significantly challenging for some, and that's helpful because the ability to conceptualize 3D space (spatial orientation) is increasingly valuable in our 3D-printing/VR/drone-flying career landscape. The instructions are excellent: the challenge card diagrams provide helpful hints in the form of black dots that make sure you're positioning the initial pieces correctly. The black dots also provide clarity for the solution cards in case you give up or need help.
Complete Insanity, CandyChess, and Time2Play
We gave Gravity Maze only mediocre marks, 3 out of 5, on Complete Insanity because if you lose one of the towers, the game is significantly impacted, perhaps unplayable. This is ameliorated somewhat because the towers are fairly large, so they're not easy to lose. The marbles are easily lost, but ThinkFun helpfully provides 2 extras. The loss of one of the 60 cards isn't a big deal (you just won't play that specific challenge anymore), but those towers are indeed critical to gameplay, as is the playing board.
Our CandyChess Strategy Score, at 4 out of 5, leans strongly toward chess for Gravity Maze–there's little room for chance in this puzzle. You can eventually solve a puzzle through random combinations and piece-fitting, but you'll still learn a ton about logic and problem solving even with this brute-force approach.
The end result of your building struggle is a very satisfying 1 or 2 seconds of gravity mastery as you watch the marble bounce off the various ramps and openeings of the towers, making a distinctive clickety-clack all the way to the target. Your kids will probably spend at least 30 minutes in a single session of building and subsequent marble running, and those who really enjoy puzzles will be happily immersed for hours at time.
…those who really enjoy puzzles will be happily immersed for hours at a time.
What ages of kids will enjoy Gravity Maze?
Our DistribuFun histogram for Gravity Maze lines up well with the manufacturer's recommendation of "8 years & up" The 4 levels of play ensure that every age of player above 8 years old will be able to enjoy some aspect of the game. Some players as young as 6 will be able to concentrate and puzzle their way through the lower levels, perhaps with some help from an adult or older sibling. Maximum enjoyment of the game is reached at about age 10 and continues on into adulthood. Gravity Maze would make a great gift for puzzle addicts of any age.
We don't recommend this toy in houses where very young kids will have access because the metal marbles are smaller than ordinary glass marbles and are so shiny that they'll be an attractive choking hazard to infants and toddlers. Barefooted parents may dislike stepping on the hard plastic towers, but this is a minor quibble.
Alternatives to Gravity Maze that teach similar skills
Gravity Maze teaches logic, spatial orientation, building, and problem-solving. Other puzzles that yield similar logic and problem-solving skills include ThinkFun's Rush Hour (a classic), Balance Beans and Solitaire Chess. ThinkFun has carved out a deep niche in the "logic puzzle to play alone" genre. For other building games that teach logic but are NOT made by ThinkFun, you should also consider Castle Logix by SmartGames (1 player) and Make & Break by Ravensburger (multiple players, timed). Finally, for those that want a toy more than a puzzle, consider Creative Color Cubes by Learning Resources, which provides a more open-ended creativity component without the logic challenges.
Value, durability, and longevity: Is Gravity Maze a good buy?
At around $30, Gravity Maze isn't a frugal purchase, but when you see the complexity and durability of the pieces, you'll understand why this product is more expensive than portable logic puzzles that omit the "building in 3D" aspect. For longevity, you'll spend dozens of hours to make it through all 60 levels, and in a few weeks you can try again with fresh eyes. It's such a simple concept, but the game rshouldn't get old or tiresome very quickly.
Conclusion & Overall Score
Where to buy
Please buy Gravity Maze from one of the reputable online merchants shown on this page. We may earn a small commission from whatever products you buy through these links. I support our family with the revenue from Learn Richly, so thanks very much for using this site and sharing our reviews on your social media feeds. Finally, you can read our complete
policy/disclosure section
if you'd like.
Our Video Review on YouTube