QUICK STATS
7 years & up
2 to 4 players
84 pieces
30 minutes
Games, Tile Games
MENSA Select
Rich Classic
Strategy
Spatial Orientation
Concentration
Instructions PDF
The game Blokus has become a modern classic among board-game fans, who've known it well for over a decade. In this review, I'm hoping to introduce Blokus to a new audience as an educational aid, not merely a board game. Blokus hones three valuable skills for players willing to focus and improve. The fast pace makes learning painless as you have fun and compete against your opponents. Read below for our full review and a brief comparison to other similar games. Want to see numerical summary ratings? Skip to the
conclusion
for our criteria breakdown and final review score.
What's included & how to play Blokus
In the box you'll find:
84 transparent Blokus game pieces, 21 in each of 4 different Jolly Rancher colors
The Blokus game board, made of matte white plastic, which is about as far removed from a Jolly Rancher as you can get, because contrast!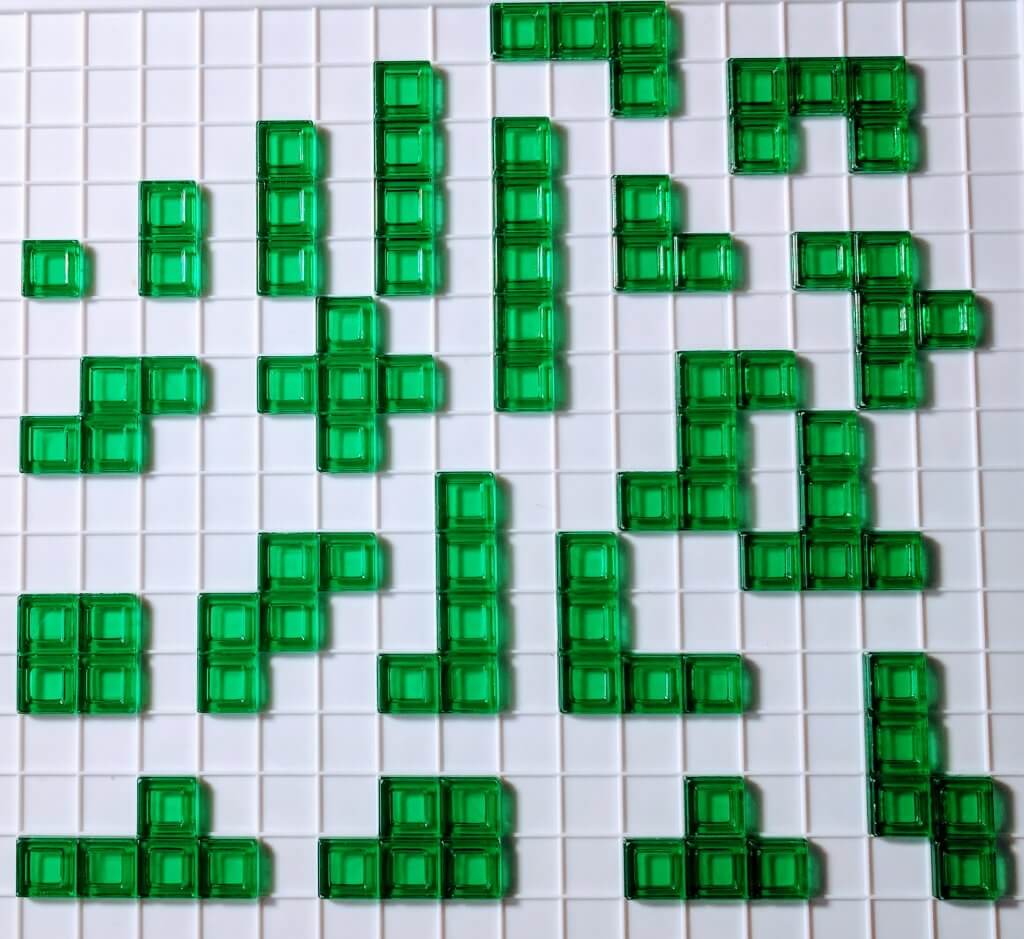 Blokus is ideally a four-player game, but there are a few alternate rules that allow you to share the extra color(s) not in use by your opponent(s). So two- and three-player matches are still fine, but four is ideal by a wide margin. In the typical four-player version, each player gets all 21 of their own colored game pieces. The goal, no matter how many players, is to place all your pieces on the board, starting from your own corner. Each successive piece you place must contact your other pieces at the corners of both pieces, and not on a face, as shown in the example below.


The problem you'll quickly encounter is one of overpopulation! Similar to our fragile planet's geopolitics, there is a land grab for every available square on the Blokus board. If you don't use your space efficiently by crowding out other players, you won't be able to fit all 21 of your own pieces on the board. The winning player is whoever has the lowest number of squares (piece units) in their remaining pieces when the board is unable to fit anything more.
I've simplified my description of gameplay somewhat because Blokus is a rich game of strategy. It requires you to think multiple moves ahead and react decisively to your opponents, akin to a multiplayer version of chess. The rules are very easy to learn and remember, but true mastery will take many games. Like almost everything in life, you'll improve most rapidly by competing against better players.
Is Blokus fun and educational?
Blokus has withstood the test of time as an entertaining and challenging game for all ages. It's fun to place your pieces, form tacit alliances with other players, and attempt to regain control when you're thwarted in your own strategies. A normal Blokus game review might stop here, but you know to expect more. Bring on the learning!
Blokus helps players young and old learn Rich Skills such as strategy, spatial orientation, and concentration. Strategy, as we define it, is the use of logic to predict what opponents will do and how to plan countermeasures against those opposing plans. There is very little luck involved in Blokus, especially if all the players act in their own interests and not as a cabal against you. Ganging up against the (perceived) best players happens frequently in strategy games like this, so part of your strategy needs to include bluffing about your real skills so that you don't become a target!
The skill of spatial orientation allows you to envision how the pieces will fit together on the board as you mentally rotate and flip each piece. This skill is only activated when you apply deep concentration, the final Rich Skill that Blokus instills. Blokus is difficult to use as a party game because it does require some quiet and protection from distraction. It's a workout for your ability to concentrate! With laid-back players, though, it would make an excellent addition to a noisy Friday afternoon of classroom game time.
Complete Insanity, CandyChess, and Time2Play
OK, so despite all the good things I've written about Blokus thus far, it fails miserably on our Complete Insanity metric. Blokus scores a 0 out of 5 on Complete Insanity because you'll go crazy trying to keep track of the pieces. This game is one of the reasons we dreamed up the Complete Insanity idea in the first place! It's so aggravating when the loss of just one piece hobbles an otherwise intact game. With tiny, mostly clear pieces, it's a miracle any Blokus set survives more than a month in a house full of kids. I think we're on our third or fourth–I've honestly lost track. The fact that we keep buying new sets is a testament to how much we like this game, but golly, it shouldn't be this hard.
Blokus scores a 0 out of 5 on Complete Insanity because you'll go crazy trying to keep the pieces together. This game is one of the reasons we dreamed up the Complete Insanity idea in the first place!
The problem lies in the fact that every player must put down all 21 of their pieces. If you lose a piece, that color is no longer playable and the four-player game (the most enjoyable variant) is impossible. I've seen people craft clever replacements out of paper or cardboard. If you take that strategy to its logical extreme, we should all just make our own Blokus games and skip the plastic entirely. I have also heard that, if you know the right address, Mattel can be persuaded to send some missing pieces. If you've had any luck obtaining pieces from them, please let us know in the comments how you did it. A robust aftermarket on ebay exists for the rest of us who won't chase down a mythical department at Mattel.
Blokus, unsurprisingly, is very close to chess on the CandyChess Strategy Score, at 4.5 out of 5. It's pretty far removed from the luck-driven CandyLand. The strategy and plotting can get as intricate as the players involved will allow; the game's not holding you back. I'm tempted to just give it a pure 5, but the group dynamics involved make it somewhat more chaotic than a typical chess match. Still, if you love candy colors but not Candy Land, Blokus is your game.

. . . the group dynamics involved make it somewhat more chaotic than a typical chess match.
A four-player game of Blokus hovers around the 30-minute mark for Time2Play, depending on how competitive each player is. For groups where multiple players deeply ponder every move, expect 45-60 minutes of tile-toting tedium. Don't let it drag on that long! Instead, set a move timer for 15 or 30 seconds to force people to think during other players' turns.
What ages of kids will enjoy Blokus?
We put our DistribuFun histogram for Blokus roughly on par with Mattel's guidance of "7 years & up." Younger kids will mostly play with the pieces as a puzzle or geometric pattern and get frustrated by a longer game. Blokus can also become a good gateway to other strategy and logic games. We have a few recommendations for logic puzzles if you're interested.
Alternatives to Blokus that teach similar skills
As we've already alluded to, the game of chess will appeal to most fans of Blokus. It's obviously only for two players, but the skills are similar. Our recommendation for beginning chess players is always No Stress Chess, which introduces a significant amount of luck and helpfully narrows choices new players must make to level the playing field. It's a phenomenal reimagining of the ancient game.
For multi-player strategy games, a sister game called Blokus Trigon is a very close analog to the original Blokus. It's more expensive, though, so only buy it if you have a house full of die-hard Blokus fans.
Finally, sliding down the CandyChess scale (towards more luck) lives an intriguing little game called Sequence. It's roughly the same age as Blokus, so it's probably quite familiar. Sequence has done a better job of becoming a franchise, with well over a dozen derivatives. Random additions like Sequence Dogs, Sequence Cats, or even Bible Sequence mean that you'll be sure to find a variant that suits your group's needs. Check out the whole Sequence line-up.
Value, durability, and longevity: Is Blokus a good buy?
At around $15, Blokus is almost cheap enough to forgive the abysmal likelihood of a wrecked game due to lost pieces. If you have older kids or all adults, you may get quite a long life out of your Blokus set. If you have multi-colored shag carpet, buy some other game . . .
Blokus pieces are quite durable, if you can avoid losing them; alas, you'll lose them before they break. It would theoretically be easy to step on one of the longer pieces and snap it, but the more likely scenario is consumption by the I-am-become-Death bane of toys everywhere, your family vacuum cleaner.
Elegantly simple games like Blokus don't go out of style. The kids will continue to love it as they grow older, and adults who have any spare brain cells left after a harrowing day in the office will enjoy the strategy and competition. It's definitely worthy of our Rich Classic award.
Conclusion & Overall Score
Where to buy
Please buy Blokus from one of the reputable online merchants shown on this page. We may earn a small commission from whatever products you buy through these links. I support our family with the revenue from Learn Richly, so thanks very much for using this site and sharing our reviews on your social media feeds. Finally, you can read our complete
policy/disclosure section
if you'd like.