QUICK STATS
12 years & up
  20 minutes/topic
Books, Workbooks
  264 pages
  Critical Thinking
  Deductive Reasoning
  Formal Logic
The Fallacy Detective
is a humorous way to teach a difficult topic: logical errors of reasoning and persuasion. Kids will appreciate the relevant cartoons, silly stories, and ridiculous examples of fallacious arguments. Teachers and parents will love that kids are eager to begin practicing clear, logical thinking and will enjoy learning to spot fallacies right alongside their students.
Is The Fallacy Detective fun and educational?
Indubitably, my dear reader. The Fallacy Detective is chock-full of important skills that today's readers need desperately. Logic, reasoning, and analysis of rhetoric are all taught, reinforced, and applied in over three dozen different chapters. I refer to the combination of these skills as "critical thinking" throughout the rest of this review.
I used this book with my two older kids, who were 7 and 9 at the time. They asked me to read it to them each day because they thought the examples were funny. Moreover, they loved being able to perhaps catch me accidentally using a fallacy in my own persuasion with them throughout the week.
Want to see some numerical ratings? Skip to the conclusion for our detailed scoring and final grade.
Intro: What is Critical Thinking and Why Should I Care?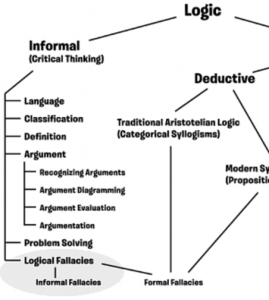 Critical thinking, in my definition, is the process of "objectively analyzing and judging ideas, issues, and worldviews." We live in a media-saturated culture and you're being persuaded by others every single day, even right now as you read this review. Therefore, the ability to thoughtfully consider and then accept or reject those ideas and issues based on their merits and logic–not based on their presentation or popularity–is more urgent than ever. You can think of this book as a critical thinking antidote to bad reasoning. Each fallacy is fully dissected and reassembled so that kids and adults alike will understand how to spot, counter and avoid such errors in their own or others' rhetoric.
I didn't receive formal training in these topics until graduate school. It was eye-opening for me and for the vast majority of my classmates! I only regret not having that Critical Thinking class until so late in my career. As penance, I  started my own kids with this book at a very young age. What's more, I'll make sure to have a refresher course with them (either with this book or a more advanced version) before they leave for college.
We live in a media-saturated culture and you're being persuaded by others every single day, even right now as you read this review.
What Will I Learn from This Book?
After a concise and helpful introduction, writing duo Hans and Nathaniel Bluedorn (brothers) dive into four different categories of fallacies. You'll encounter each type in popular culture every day, especially in political topics. Below is a short rundown of each section, and you can find the full table of contents by clicking "Look inside" on the Amazon Kindle version of the book.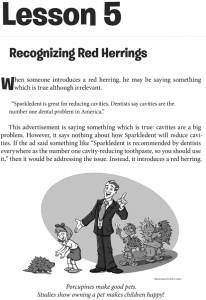 In Avoiding the Question, we learn about eight different fallacies that all seek to interject extraneous information, attempting to hide the central tenet of the author's argument. This section covers well-known fallacies such as red herrings and setting up a straw man. Therefore it provides a familiar and easy introduction to help teachers and parents recall what they've forgotten. Most kids won't have learned formal names for any of these fallacies, but they'll certainly be able to spot them immediately after these lessons!
The second section, Making Assumptions, begins with a fascinating story/fable about a character named Aroup Goupta that will help you understand the preconceived notions and mental baggage you bring with you into everyday thought. A complete analysis and application of seven assumption-based fallacies quickly follows, covering such favorites as the slippery slope and circular reasoning.
Part three is the most advanced in the entire book, covering four fallacies based on a faulty treatment of data or confusing cause and effect. Their coverage of post hoc, ergo propter hoc is alone worth the price of the whole book. It's by far my favorite because I see it so often in the popular media. Plus, I love saying it to impress people, pretending that I actually know some Latin.
…brace yourself for some uncomfortable realizations when you recognize how susceptible you are to being persuaded…
Section four rounds out the book with a deep look at propaganda. No matter what political views you hold, you'll recognize the nine fallacies discussed here in both your own candidates' statements and in those of the opposition. Dig-in and brace yourself for some uncomfortable realizations when you recognize how susceptible you are to being persuaded by these types of specious arguments.
What ages of kids will enjoy The Fallacy Detective?
Our DistribuFun histogram for The Fallacy Detective skews much younger than the manufacturer's recommendation of "12 years & up." As long as you're willing to read aloud and discuss each lesson (about 20 minutes per chapter), I would say that some six and seven-year-old kids could grasp and understand this book. Most eight-year-olds will appreciate the humor and paradoxical examples, and from our experience I'd guess that ten-year-olds with strong reading skills could handle this as a read-silently book of their own. I'm now starting to use it with the second wave of my kids: my seven-year-old (child #3) reads over my shoulder and corrects me as I make errors or skip words while reading The Chronicles of Narnia, so he should be ready to tackle this book this summer.
Alternatives to The Fallacy Detective that Teach Critical Thinking
Another book to consider, written by the same authors, is entitled The Thinking Toolbox; it's overtly Christian in its presentation (whereas The Fallacy Detective can easily be used in a public school classroom), so if you're in a situation where you'd be uncomfortable discussing religion and the origins of humans (Creationism, Evolution, etc.), please read it thoroughly before using with your kids.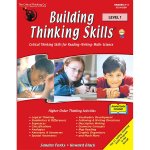 I've defined critical thinking rather narrowly by focusing on the judgment and analysis of ideas and arguments. In contrast, for a broader, more holistic definition you'll want to check out the series of textbooks by The Critical Thinking Company. Their "Building Thinking Skills" series is comprehensive and thorough, but it's definitely in the category of traditional textbooks–not a mainstay for Learn Richly. My advice is to whet your young learner's appetite with The Fallacy Detective and then proceed to enrich the curriculum with these books (or ask your child's teacher to use them as a primary text).
Value, durability, and longevity: Is The Fallacy Detective a good buy?
You'll find The Fallacy Detective for around $20 at various online websites. That's a decent value for a book with this much content. The newer Workbook Edition contains spaces for your students to fill in answers, but there's a rich market of used copies as well if you'd like a slightly cheaper option.
I did subtract a whole star for longevity/durability since the book is just a simple paperback binding and doesn't easily lay flat or have other "workbook" features you might expect in an activity book that's meant to be consumed. Obviously, this doesn't apply to the Kindle edition, which will be difficult to do "fill in the blank" answers unless you're using a Kindle app with a keyboard.
Conclusion & Overall Score
Where to buy
Please buy The Fallacy Detective from one of the reputable online merchants shown on this page. We may earn a small commission from whatever products you buy through these links. I support our family with the revenue from Learn Richly, so thanks very much for using this site and sharing our reviews on your social media feeds. Finally, you can read our complete
policy/disclosure section
if you'd like.