QUICK STATS
  8 years & up
1 player
  30 minutes
Games, Puzzles
  Rich Classic
  Logic
  Problem Solving
  Concentration
  Instructions PDF
Rush Hour is the game that started it all for ThinkFun and has spawned a dynasty of follow-up games in the same series. The concept is simple: slide cars until you create a path for the red car to drive out. You'll quickly become engrossed as you use logic and guesswork to find the right combination of moves to solve the puzzle. Want to see numerical summary ratings? Skip to the conclusion for our detailed criteria breakdown and final review score.
What's included & how to play Rush Hour
In the box you'll find:
The square Rush Hour game board, about 5.5 inches on each side
16 total cars and trucks, including the special red exit car
40 challenge cards, 10 in each level
A drawstring bag to carry it all
Rush Hour is one of the earliest examples of a modern logic puzzle. Bright colors, sturdy plastics, and professionally-designed graphics all combine to make a satisfying gaming experience. Just 1 player is required, but you should recruit as many helpers as you can squeeze around the diminutive board. The goal of Rush Hour is dead simple–slide cars around until the red car is free to move out.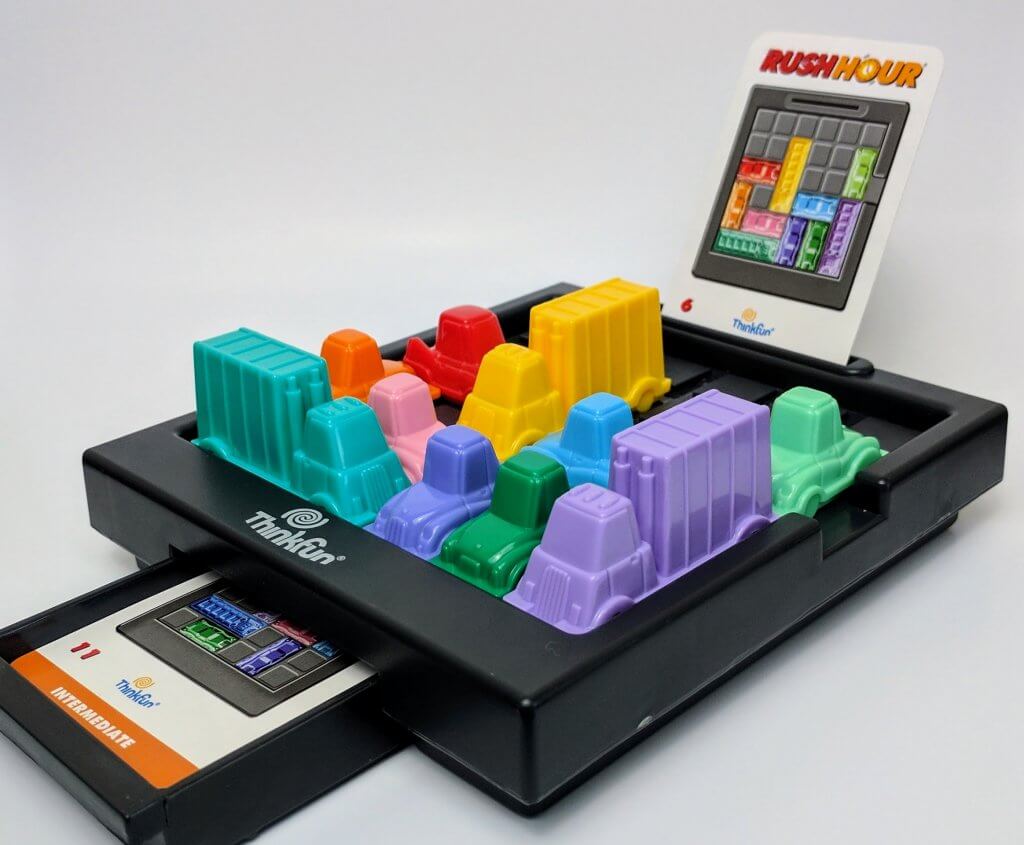 Each car you place is either 2 or 3 board-units long. The 3-unit ones look like trucks, but they function identically to the cars. The board itself has a hidden drawer to store all the cards and a helpful vertical card holder for the current challenge card. Both storage features are nice touches.
Game setup occurs by taking a challenge card and arranging the cars as directed. There are 40 total cards, 10 each in Beginner, Intermediate, Advanced, and Expert. It's fitting that the words "Evil" and "Expert" both begin with an E, because in this game they are basically synonyms. No matter the level, from Benign to Evil, the object is always to get the red car to the exit on the right side of the board.
Each car can only move back and forth according to its original orientation. No turning, no sideways moves. You'll soon do a lot of moving the same cars repeatedly to free up space for the red exit car. The animation above shows the simplest solution to the puzzle in 16 moves, which probably seems like a lot until you realize that it's a Beginner card. Card number 3, actually. The Evil level will routinely have "simplest" solutions in 30, 40 or perhaps 50 turns. Yeah, this is a real game, for people that are sick of mindless "casual" games and want a challenge. If you can do an Expert card in under an hour, please let me know in the comments. I want to congratulate you, because I've never even finished one!
…this is a real game, for people who are sick of mindless "casual" games…
Is Rush Hour fun and educational?
Rush Hour is exercise for your brain. It's fun in the same way running a marathon is fun–you're glad you did it, you know you need the training, but in the thick of the agony there's little joy. Insert a joke here about the mysteries of "puzzler's high." Maybe I'm just bad at these kinds of things, because my kids certainly play with this toy for hours at a time.
The Rich Skills you'll develop include logic, problem-solving, and concentration, all of which are present in abundance. The logic necessary for Rush Hour is roughly at parity with chess, requiring you to think several moves ahead and understand the chain reactions of cause-and-effect that arise when you move a single car. You'll try various solutions and backtrack many times as you develop a sophisticated repertoire of problem solving strategies. If you have a child who has trouble focusing, successive rounds of concentrated Rush Hour will be a fun way to lengthen his or her attention span. Being a tangible, real-world toy (no screen!) is an added bonus in our device-centric world.
If you have a child who has trouble focusing, successive rounds of concentrated Rush Hour will be a fun way to lengthen his or her attention span.
Complete Insanity, CandyChess, and Time2Play
I initially subtracted a full 3 points for Rush Hour on our Complete Insanity score because the tiny little cars are all unique and quite easy to lose. Then I realized that in several years we haven't actually lost any, so I added back a point. I then reissued one-half more point because of the card drawer and handy card holder, yielding 3.5 out of 5.
The CandyChess Strategy Score for Rush Hour is almost perfectly close to Chess at a 4.7 out of 5. The only thing missing is an opponent to plan against. Unlike humans, the cards are always static and never try to outwit you.
Any Time2Play figure we can give here is pretty meaningless. You can spend anywhere from 10 minutes to 10 hours on a single puzzle, depending on the difficulty and your aptitude. My advice is to try a card for 30 minutes. If you're still stuck, take a photo of where you were and try again during a fresh session.
What ages of kids will enjoy Rush Hour?
Our DistribuFun chart for Rush Hour is quite unusual in that it skews a bit older than the official recommendation of "8 years & up." Normally our findings trend younger than the manufacturer's age. However, in this case I believe young kids will just play with the cars and skip the puzzle. Even the beginner challenge cards get intricate very quickly, and unlike other puzzles, e.g., Gravity Maze, the probability of frustration is much higher. (Check out our full review of Gravity Maze, also made by ThinkFun.) Gravity Maze gives you a tangible sense of progress as you fine-tune the marble's path and keep moving forward. In contrast, Rush Hour requires you to undo a lot of previous moves, which can become disheartening.
Alternatives to Rush Hour that teach similar skills
I've already mentioned Gravity Maze as a strong alternative. You should also consider Tilt and Solitaire Chess, which both follow ThinkFun's excellent formula for single-player logic puzzles. Finally, check out Castle Logix by SmartGames or Logic Links by Brainwright. Castle Logix especially will be much better for younger players, since even the hardest puzzles are still doable. It also doesn't have the tiny plastic pieces that can so easily get lost.
Value, durability, and longevity: Is Rush Hour a good buy?
Easily found for around $20, Rush Hour is a decent value. Your hardest decision will be which of the many variations of Rush Hour you'll pick up (while somehow avoiding the cinematic trilogy of the same name). I'm very pleased with the durability of the parts included with Rush Hour. Other than the probability of losing pieces, which I've already bemoaned in the section on Complete Insanity, this is a well-made game. It's also very playable over the years, since you're not likely to remember a particular solution. At 40 total cards (plus many more you can find online), this game can give you hundreds of hours of focused thinking.
Conclusion & Overall Score
Where to buy
Please buy Rush Hour from one of the reputable online merchants shown on this page. We may earn a small commission from whatever products you buy through these links. I support our family with the revenue from Learn Richly, so thanks very much for using this site and sharing our reviews on your social media feeds. Finally, you can read our complete
policy/disclosure section
if you'd like.