QUICK STATS
 4 years & up
 2 to 6 players
 72 tiles and 6 cards
 15 minutes
 Games, Tile Games
  TOTY 2015
 Pattern Recognition
 Sight Words
 Time Pressure
 Instructions PDF
Part slot machine, part bingo, part vocabulary flash cards, Zingo combines fast-paced bingo-style play with sight words and simple pictures. The result is a fun, educational game that my four-year-old asks to play several times per week. Older kids and adults will enjoy it too, but they may need to add a few twists to make it more challenging. Want to see numerical summary ratings? Skip to the conclusion for our detailed criteria breakdown and final review score.
What's included & how to play Zingo
In the box you'll find:
72 yellow plastic Zingo tiles
6 cardboard double-sided Zingo boards with a 3×3 playing grid
Dual-slotted Zingo tile revealer that shows two random tiles
Parents' guide with 10 tips to help use this toy with youngsters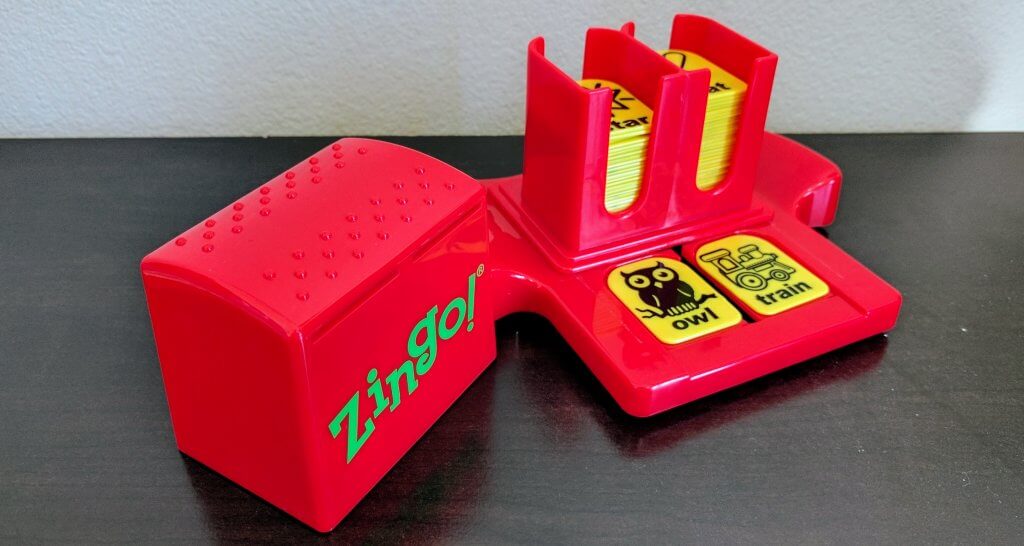 Like its namesake Bingo, Zingo lets competing players race to fill their board first. Players claim a tile by being the first one to call the name of the card after it's revealed. You only get a tile if you actually have a blank space for that tile. In our house, we play that calling a tile that you don't have a space for also results in the loss of a card already on your board.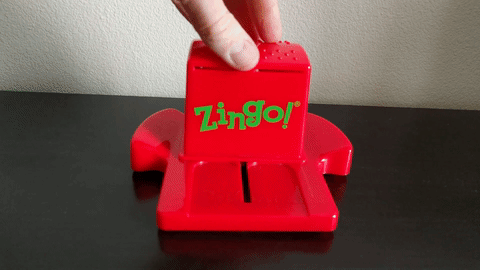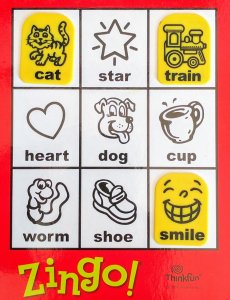 The biggest difficulty we have with Zingo is arbitrating who gets a tile when both players call it. Ties happen frequently in Zingo, and they can cause a lot of conflicts. We were playing this game so much at one point that we broke down and bought a buzzer system called the Eggspert. It's a colorful plastic apparatus with egg-shaped lights. The players must now use the buzzer to claim the card, instead of yelling it. Presumably, the digital system is precise enough to deal with ties fairly. The huge drawback here is that Eggspert adds a big chunk of money to the overall system cost. But, we ended up using it for other stuff, including quiz show and trivia games. The custom portable buzzer system my church had for Bible quiz in my youth group was over $400, which makes Eggspert look like a mass-produced steal.
Ties happen frequently in Zingo, and they can cause a lot of conflicts. 
Included in the instruction booklet are several minor variations. The ordinary version will be all you should need. We did add one variant of our own: to help our youngest kids learn sight words, I would play a special version just for them. Instead of revealing the entire card with the picture and word, I would pull back the slider just enough to show the word. If they could call out the word, he or she could keep the tile. Otherwise, I would then pull back the whole picture and then anyone could claim it, including me.
Is Zingo fun and educational?
Zingo is most directly compared to Bingo, against which Zingo wins hands-down in terms of fun. The added element of competition for a given piece makes it exhilarating for competitive youngsters. Obviously, it doesn't scale well like Bingo does, and for shy students who don't want to compete for every tile, it's decidedly less entertaining. These are minor quibbles for an otherwise fun game.
Educationally, Zingo helps out with at least three Rich Skills. The parent's guide lists half a dozen more, but take those with a grain of salt (Dear ThinkFun: taking turns is not a "skill" on which parents want to spend money to buy a game). Here are what I would consider the actual skills taught by this game:
Pattern recognition: For young kids, matching the name of the tile to the picture is a triumph. I like that these are simple flat icons, without a lot of color or fancy backgrounds. This makes them all similar and helps kids focus on the idea. The related skill here is the ability to scan your board and see if you need the tile being presented. When your board is mostly empty, this is challenging even for adults.
Sight words. It's great that each picture includes the word below. My hack of revealing only the word (see the previous section) is also a helpful way you can teach sight words. ThinkFun also has an entirely different product (that I haven't tried) appropriately called Zingo! Sight Words. It uses "true"

sight words

like what, and, there, two, etc. It uses the same tile revealer and tile shape, so I suppose you could combine the tiles and boards from both sets and have a really interesting mixed-up Zingo game.
Time Pressure. My math skills improved immensely in 2nd grade when we did timed worksheets on basic arithmetic. At the beginning of the year, I couldn't even finish a whole drill sheet in 60 seconds. After a term of practice, I could do 3 in that same time. Zingo helps develop such speed improvements in words and pattern recognition as you race against others. As we've played (and as they've grown), I see my kids' reaction times improve immensely. The older ones are beginning to use memory tricks to more quickly recall what's open on their board without even looking. My days of winning this game are numbered . . .
Complete Insanity, CandyChess, and Time2Play
Zingo gets an above-average Complete Insanity score at 4.0 out of 5.0. No one piece is very critical, but those tiles are super thin and tiny and quite easy to lose. We've lost multiple tiles over the years, but we've never lost any of the six included playing boards, so I'm guessing you won't either.
At a solid 3.0 out of 5.0 on our CandyChess Strategy Score, Zingo equally rewards both lucky and skilled players. The mercurial order of the tiles has sunk many a fine Zingo player. But little kids who can't quite keep up with their older siblings will appreciate the chance to get lucky and occasionally win.
Zingo equally rewards both lucky and skilled players
Only have a few minutes before bedtime? Zingo requires barely 15 minutes, so it's one of the shorter games we've measured in Time2Play. Setup (loading) is what takes the longest time, but since everyone can help load the tile sorter, it's not burdensome. If you don't have time to clean up, just dump the tiles in the box without loading them for next time.
What ages of kids will enjoy Zingo?
Zingo is really fun for young kids, as shown by the green bar almost to the left in the DistribuFun histogram. Our experience lines up quite well with the manufacturer's recommendation of "4 years & up." However, we would caution that it's not nearly as fun for teens and adults–the "& up" designation from the maker is a little misleading in this case. Basically, anyone who is still in their first decade of life and who is old enough to not swallow the pieces should have a large measure of fun with this game.
Alternatives to Zingo that teach similar skills
Zingo's got a lot of competition from . . . itself. There are now a whole family of toys that didn't exist when we bought this game over five years ago. Whether it's Zingo Sight Words, Zingo 1-2-3 or Zingo Word Builder, you've got options for pictures, numbers and letters.

Outside the Zingo family, I'd recommend two card games to teach similar skills. Here are links to their reviews: Spot It and Set. Spot It can be played by kids almost as young as those who would play Zingo. Set, for older kids, teaches the same image processing skills and a host of others. Set works well for adults, too. Both Spot It and Set are "Rich Classics" because they're applicable to so many different groups and ages of learners.
Value, durability, and longevity: Is Zingo a good buy?
You can find Zingo for around $20 at several online stores. It's not overpriced, but I wouldn't consider it a "bargain," so let's call it an average value. It will no doubt prove as durable in your house as it has in ours; the game still looks pristine. The cardboard playing boards would be the easiest to destroy, but apart from a dunking, they are thick enough to survive well.
Longevity is where Zingo shines. As long as you've got kids in the target age range, I think they'll enjoy it like ours have. As I discussed in the section about ties, if you can get a way to resolve disputes, the game can be played hundreds of times. It should survive classroom use well, but it doesn't scale to a larger number of students. Even for only a small number of kids, it's not going to get stale as a long-term investment. If you plan on teaching, for example, second grade for the next few years, it should serve you well.
Conclusion & Overall Score
Where to buy
Please buy Zingo from one of the reputable online merchants shown on this page. We may earn a small commission from whatever products you buy through these links. I support our family with the revenue from Learn Richly, so thanks very much for using this site and sharing our reviews on your social media feeds. Finally, you can read our complete
policy/disclosure section
if you'd like.